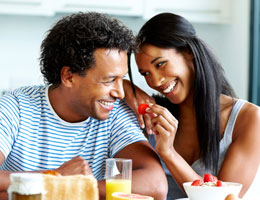 Feb. 12, 2017—It's great having someone special you connect with—a friend or companion to share a moment, a laugh or even a lifetime together. You know it's good for your soul. But what about your health?
Not only do good relationships make us happy, but they also boost our well-being. Here are five good-for-you reasons to forge close connections:
1. Better blood pressure. In one study involving older adults, loneliness was associated with having a higher risk of unhealthy high blood pressure.
2. Stress management. Companionship may have a mood-lifting effect, according to the American Society on Aging. And when you're going through a rough patch, the emotional support of a close friend can help see you through. A caring confidant might also help alleviate stress in practical, everyday ways—for instance, by helping with errands or giving you a ride when your car is getting fixed.
3. Moral support. Partners and friends can inspire healthy choices (in a caring, not nagging way) for each other. Think losing weight, exercising or quitting smoking.
4. Purpose. You may find a greater sense of meaning and self-worth when you build a supportive circle of family or friends.
5. Longer life. Compared with lonely people, those with close ties to others or their community may live longer, according to Mental Health America.
Put yourself out there!
Here are a few ideas that may help you make new connections:
Take a class. Your local college or library might offer subjects that interest you. You'll learn something new—with someone new.
Join a club. From book clubs to hobbyist groups, spending time with people who share your interests is a great way to have fun and meet new people. You might check online for community events or social groups.
Volunteer. Making a difference in the community can be a social experience.
Start with Hello. Who knows? That person you keep bumping into at the coffee shop could turn into a pretty good friend.