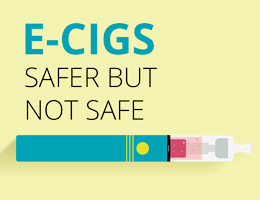 Feb. 16, 2017—As electronic cigarettes have grown in popularity, so has the debate about whether they are a health hazard. While vaping appears to be far safer than smoking regular cigarettes, it's still not risk-free. In fact, puffing on e-cigarettes may raise the risk of heart troubles.

That's the takeaway of a pair of new studies looking at the possible health risks of e-cigarettes.

In the first study, smokers who switched to e-cigarettes for at least six months had much lower levels of toxic and cancer-causing substances in their bodies than those who kept lighting up.

But to see any real benefit from switching to e-cigarettes, the smokers had to make a clean break. If they puffed e-cigarettes and kept smoking, their levels of toxins and carcinogens hardly dropped.

The study also found that smokers who switched completely to e-cigarettes cut their intake of toxins and carcinogens as much as those who used nicotine replacement products like the patch.

Check out more findings in the study's abstract.

Raised heart disease risk

In the second study, researchers reported that frequent e-cigarette users might face an increased risk of heart disease. Among other things, this small study found frequent puffers were more likely to have raised levels of adrenaline in their hearts than those who didn't vape. Raised adrenaline levels are linked to heart and blood vessel problems. They are also known to play a role in the cigarette smokers' higher cardiovascular risk. Learn more by reading full study.

The bottom line

Are you a smoker who's having a hard time quitting? Then this research shows that switching to e-cigarettes may be better for your health—but only if you give up regular cigarettes completely.

Even so, keep in mind that e-cigarettes may harm your heart. So it's a good idea to talk to your doctor about their possible risks and about other methods that can help you stop smoking.

And if you currently don't smoke or use e-cigarettes, it's clearly best not to start.