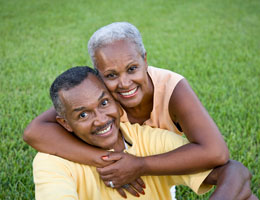 July 17, 2017— Adapting even a few healthy lifestyle habits can reduce the risk for high blood pressure in African Americans, according to a new study published by the American Heart Association (AHA).
African Americans are at greater risk than whites for developing high blood pressure. These differences can start in childhood and last a lifetime. Preventing high blood pressure is key to lowering the chances of having a heart attack or stroke.
For the study, researchers analyzed the cardiovascular risk of more than 1,800 African Americans from 2000 to 2012. They evaluated the participants' heart health and how closely they followed a list of seven AHA guidelines for modifiable health behaviors—the AHA calls them "Life's Simple 7"—that can help lower the risk of heart disease and stroke.
Here's what the study found:
Over 80 percent of the study's participants who followed only one or none of the healthy guidelines developed high blood pressure.
African Americans who followed two of the Life's Simple 7 guidelines from the beginning of the study reduced their risk of high blood pressure by 20 percent, compared to their peers who followed one or none.
Those who followed six of the seven guidelines had a 90 percent lower risk of high blood pressure than the one or none group.
You can find the full study in the August 2017 issue of Hypertension.
What is 'Life's Simple 7'?
According to the AHA, you can greatly improve your heart health by following these seven guidelines:
Don't smoke.
Maintain a healthy weight.
Eat a healthy diet.
Be physically active.
Maintain healthy blood sugar levels.
Control your cholesterol.
Manage blood pressure.
Check out this infographic to learn what those blood pressure numbers mean.