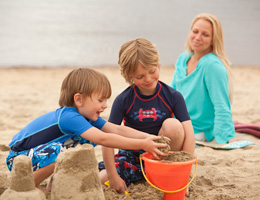 July 15, 2017—Let's say you're hanging out at your favorite summer swimming spot when a panicked friend says she can't find her child. Together you search and discover his limp body underwater. You pull him to shore. But he isn't breathing. What do you do?
A recent study might help you make the decision if this ever happens to you. Researchers reported that drowning victims are more likely to recover if bystanders begin CPR right away, instead of waiting for first responders, like lifeguards, or emergency personnel to arrive.
That's crucial information: Drowning claims the lives of about 10 people every day nationwide.
The researchers looked at more than 900 cases of people who had experienced cardiac arrest after drowning. And they found that when bystanders started CPR, the victims were three times more likely to recover with good to moderate brain function than when CPR was started by responders.
You can find an abstract of the study online.
Are you prepared to save a life?
This study underscores the importance of knowing how to perform CPR, or cardiopulmonary resuscitation. And there's no better time to take a CPR class—whether it's your first or a refresher.
In the meantime, check out this infographic for a quick look at how to do hands-only CPR. If you spot the signs of cardiac arrest, first call 911. Then do this: