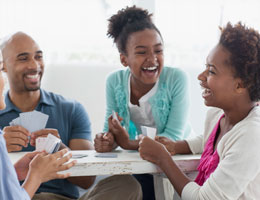 March 19, 2017—Turns out, we could all use a good laugh every day. Why is that? All humor aside, there may be health benefits for you when you explore the lighter side.
That's right. Not only does tickling your funny bone feel good, but it may be good for you. Here are four ways laughter boosts your well-being.
1. Comic relief = stress relief. Laughter decreases stress hormones that can affect health. It eases anxiety and body tension. Stress-tightened muscles relax for up to 45 minutes after a good chuckle.
2. Heart-happy humor. Laughter may lessen artery inflammation and lift HDL (good) cholesterol—which may protect your heart.
3. Laugh yourself a little lighter. Laughing 10 minutes a day (funny movie, anyone?) burns up to 40 calories. Over the course of the year, that's enough to laugh off up to 4 pounds.
4. Joke away the pain. Laughing releases mood-lifting endorphins, which boost well-being—and may numb pain.