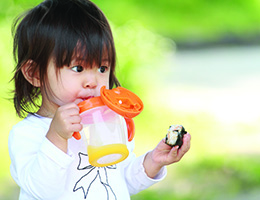 March 9, 2018—They're called "toddler drinks." But they're not healthy for toddlers.

At least not according to an article published in the journal Preventive Medicine. It says the drinks' marketing claims are misleading. And it calls on the U.S. Food and Drug Administration (FDA) to make the labels on these drinks more truthful.

Toddler drinks come in two forms. Transition formulas are marketed for infants and toddlers 9 to 24 months old. Toddler milks are sold as drinks for children 12 to 36 months old.

The drinks' labels suggest they are healthy and good for a child's growth, or even that they may be preferable to breastfeeding. Many are sold as a good option for picky eaters. Some claim to be endorsed by health experts. But health experts actually don't recommend them.

That's largely because they often contain corn syrup or other added sweeteners—and these drinks just don't offer any nutritional value over other options for toddlers' diets. Toddlers are better off eating age-appropriate, whole foods. After 12 months old, drinking whole cow's milk can also contribute to a toddler's healthy diet.

The article's authors urge FDA to work with the makers of toddler drinks to come up with clear and truthful labeling. If the companies fail to act, the authors urge FDA to regulate the labeling.

Feeding your toddler

The American Academy of Pediatrics urges moms to breastfeed babies for the first six months. Solid food can then be added while still breastfeeding until at least the baby's first birthday. Moms can breastfeed longer if they want to.

Whole cow's milk—but not 1 percent or nonfat—is fine for babies after 1 year of age, along with:
Cereals.
Vegetables.
Fruits.
Meats.
After a child's second birthday, moms should talk to their pediatrician about their child's nutritional needs, including when to switch to low-fat or nonfat milk products.