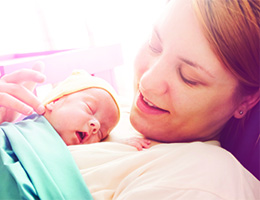 Jan. 8, 2018—Being obese during pregnancy raises the risk of giving birth to a larger-than-average baby, a new study shows.
It is important to reach a healthy weight before pregnancy. That's because having a large baby increases the chance of a difficult delivery—like bleeding heavily after birth or needing a C-section.
Large babies are more likely to have a bone fracture during delivery. Plus, they face a greater risk of obesity and heart disease later in life.
The study may be one of the strongest indications so far that obesity during pregnancy directly affects a baby's growth.
Excessive growth starts early
For the study, researchers examined the ultrasound scans of more than 2,800 pregnant women. More than 440 were obese. But none had other health problems before pregnancy, such as diabetes, that might raise the risk of a larger-than-normal baby.
Starting in the 21st week of pregnancy, the scans revealed that the thigh and upper arm bones of babies of obese mothers were longer than those of babies of nonobese mothers. And at birth, the babies of obese mothers weighed an average of almost 100 grams more than those of nonobese moms and were more likely to be classified as large for their gestational age.
The researchers can't explain why the babies of obese women were larger and heavier. But their best guess is that obese women are more prone to insulin resistance—a condition in which the body doesn't respond well to the hormone insulin. As a result, obese women's blood sugar levels may rise, which could fuel their babies' growth.
The study was published in JAMA Pediatrics.
Mom's weight matters—before and during pregnancy
Pregnancy is never a time to start an extreme diet, which is another reason why it's best to start pregnancy at a healthy weight. If you're planning a pregnancy, be sure to ask your doctor what a healthy weight is for you. Then do your best to reach it if you're carrying extra pounds.
If you're already expecting, gaining the right amount of weight can also help protect you and your baby. In general, it's best to gain about 25 to 35 pounds during pregnancy if you were at a healthy weight before conceiving. If you were obese before getting pregnant, aim for a weight gain of about 11 to 20 pounds.
And eating for two isn't a free pass to overindulge. You only need about 300 extra calories a day to support your baby's growth.
To see how much you know about pregnancy and weight gain, take our quiz.